The ultimate goal of building brand loyalty is to form nurtured, meaningful relationships that are capable of withstanding the test of time.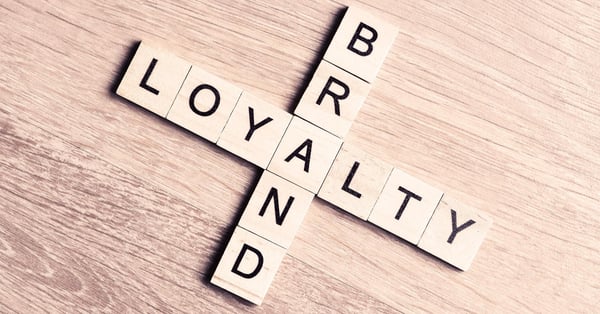 It might seem like a tall order but you can break this down into attainable tactics and goals that can become part of your overall marketing strategy. This isn't something you achieve in a day, though, so here's our step-by-step process on how to increase brand loyalty and improve the lifetime value of your average customer.
Before
Acquiring a new customer could cost you five times more than keeping a customer loyal. Before you start with the engagement ploys and marketing tactics, you need to look at your existing processes, segment your customers and really understand their goals and dilemmas.
☑️Segment your database: To provide highly relevant offers to your customers, you need to look at your data holistically. You can segment your audience based on purchase history, demographics, browsing history and interests. This helps you craft significant and bespoke campaigns in the future - and they'll think it's been handcrafted just for them.
☑️Research why your customers leave: In an ideal world, your customers would never go elsewhere and remain dedicated brand ambassadors forever. However, we know that's not always the case. Doing some investigating can illuminate potential issues and help you avoid future mistakes, losing fewer customers in the process. When those changes have been implemented, be sure to communicate that back to them - you might just win them back.

☑️Improve your customer service offering: Before embarking on a brand loyalty adventure, make sure your customer service is up to scratch. These days, many companies tend to handle customer service via social media. The way you interact with customers on social media is essential as it's entirely public-facing. Build trust by being transparent and responsive on all platforms. After all, how you interact will impact how they remember your brand.
☑️Consistent brand story: What voice represents your brand's narrative? Whatever the answer, make sure it's consistent across all channels, including your website. This builds familiarity, making your brand more recognisable. Through compelling storytelling, you can establish yourself as a pro in digital engagement.
During
There are plenty of marketing tactics that brands use to increase loyalty, including providing unmatched customer service, enticing rewards programs and more. Here's how to maintain brand loyalty beyond that and not get lost in the hard sell.
☑️Personalise your emails: Tailoring your email showcases to the customer that you value them and they're not just somebody on your mailing list. It can start with including their name in the subject line (which is proven to entice more open rates) or you can go above and beyond to recommend products based on previous purchases.
☑️Provide value: Sometimes it's essential to stop the hard sell and engage your audience in an emotive and interactive way. It's crazy to us that some business owners are still a little unsure of investing in experiential marketing. Especially when 70% of people who engage with a brand via an experiential marketing campaign become regular customers.
☑️Keep track of your customer's feedback:

Regular surveys and polls keep you updated on how people perceive your brand. Don't bombard them with requests for feedback though. When they sign up or after a purchase is enough to gauge how they feel about your services and make improvements. Another way to understand your audience is to utilise social listening - an important tool on any marketer's belt.
After
As marketers, how do we sustain brand loyalty if our customers may eventually no longer have a need for our products? Brand loyalty has the power to grow your business but how it's maintained after the all-singing, all-dancing campaign is entirely up to you. Here are some tactics you can try.
☑️Produce high-quality content: To keep customers coming back, create content that informs, engages, educates. Not only can it help you become a thought leader in your industry but it encourages customers to revisit your website time and time again. This gives you an extra chance to positively impact how they feel about your brand.
☑️Retargeting: In the increasingly digital world, we're all guilty of getting distracted. Customers can click off your site, leaving items in their cart and for whatever reason - they've gone. Remarketing efforts act as a gentle reminder to those who left, encouraging them to finish what they started. Without this, the initial customer acquisition cost would all be in vain.
☑️Consistency is key: It's all right putting the above steps in place but are you doing it all consistently? Customers are looking for brands they can trust and undeviating messaging can help drive brand loyalty.
If you can leave a lasting impact on your audience, you'll be able to do less hard selling in the future and more nurturing. In the end, brand loyalty is about meeting your customer's needs and creating an experience that keeps them coming back for more.
Brand loyalty doesn't just happen overnight. However, you need to know you have the finances to facilitate fantastic loyalty programmes and engagement activations if it does.
Use Our Campaign Budget Calculator to Increase Your Brand Loyalty
When you have clear budget figures, you can work out what you can invest to increase brand loyalty. It's not always simple to see how to activate social media and loyalty schemes equate to ROI. You can use our handy little budget calculator so you can justify future branding budgets.
It's easy to use and gives you clear figures to take away. Try it out using the link below.