There's no denying that online shopping is growing in popularity, but according to Small Biz Genius in-store shopping is still the preferred retail channel for 82% of Millennials.
As the ongoing battle between online vs brick-and-mortar continue to rage on, some surprising winners are coming out on both sides. More companies are opting to reduce their physical presence and instead bulk up on their online services, whereas a few digital giants are establishing physical stores with a twist – they sell no products, they simply provide 'retailtainment'.
Retailers are also using real time user behavioural and emotional data to develop a deeper understanding of their customer's preferences and desires in a bid to provide better 1-2-1 instore and online experiences, but by the millions.
In short, more people are realising just how important data and digital is.
Increasing Customer Engagement
Over 40% of shoppers have said that digital displays play a huge part in what they buy, especially if located close to the point of purchase – which makes perfect sense if you think about it.
In what has become an experience-centric environment, shoppers expect more from their shopping experience. Fair enough the product itself is great, but often the most difficult part for retailers isn't persuading a customer about the quality of the product, but persuading them that it is too good to walk away from. When you understand this, you will see why adding information that supports the product, the purchase and helps customers at that part of the buyer journey is a no-brainer.
More than 40% of shoppers say they only went into a store because a digital sign caught their attention
This is much higher than any other display. As human beings and the way our brains are programmed, we can't help but respond to a stimulus, which is precisely what digital signage offers. As well as having a recall rate of 83%, retailers are seeing higher impact from using this low-cost approach.
Jasmin Stemmler, product marketing manager, NEC Display Solutions Europe can be quoted as saying "In a 2019 survey conducted by digitalsignagetoday.com, 64% of respondents cited customer engagement as a key benefit of their AV deployment, with improved customer service also very highly rated by 57%. Improved branding, increased upsell and cross-sell opportunities and increased uptake on coupons and promotions were also named as key benefits."
Experience, Experience, Experience
Are you tired of hearing or seeing that word? … No, I thought not, because it's something we all want more of, but better.
Digital signage is no longer being seen as an add-on to a retailer's strategic plan – but now perhaps one of the most important parts.
According to Laila Hede Jensen, Digital Signage Organisation (DSO) board member "many new technologies are being utilised in conjunction with digital signage for retail applications, and smart retailers can harness this technology to deliver a unique experience."
Although what we've seen so far is only the tip of the iceberg where AR, AI and facial recognition is concerned, the possibilities are already getting numerous industries excited. At present there are companies using facial recognition software to communicate to instore signage to display content specific to each shopper, for a truly personalised shopper experience.
Imagine a time where we will be able to interact with technology in the way we can only see in futuristic movies? Jeff Hastings, CEO of BrightSign explores this idea.
"Today, new technologies that were considered futuristic are being presented to retail customers. Smart cameras connected to digital signage can trigger appropriate on-screen content based on age and gender recognition. Voice control provides a new form of interaction with signage. Haptic technology is making the jump from gaming to retail displays triggering content via mid-air 'touch'. In addition, AI has great potential to tune digital signage presentations in real time, collecting and analysing large quantities of data and automatically displaying environmentally-responsive content."
The possibilities for a bespoke experience are endless, and even we are excited.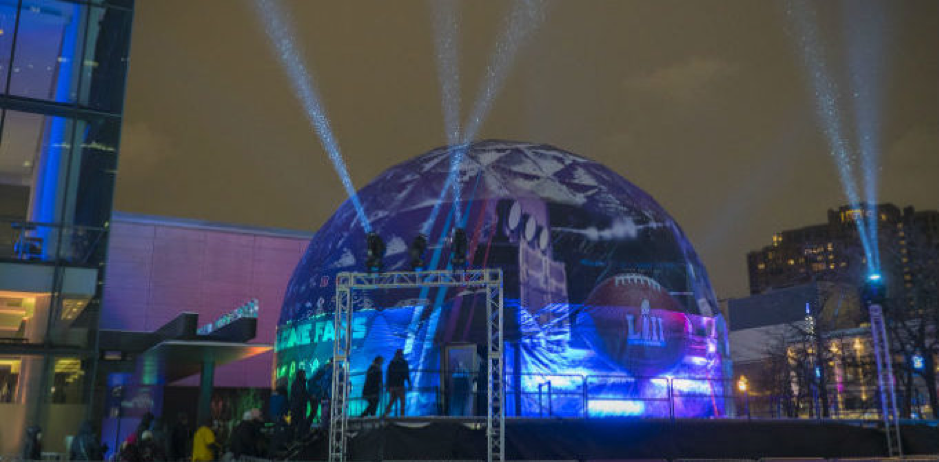 Image credit
Super Bowl Live Projection
The NFL, GMR and bluemedia partnered together to bring visitors a 360-degree live theatre at the spectacular 50 ft wide and 30ft tall projection dome. Deciding on a '#BoldNorth' show theme, designers created a Super Bowl branded display encasing the projection dome for all to see. Fans were then able to watch the show inside (out of the cold).
Attracting more than 27,000 visitors and garnering lines every night of the show, fans waited patiently to be a part of the event and to see what everyone was talking about, so I think we can call the whole thing a success.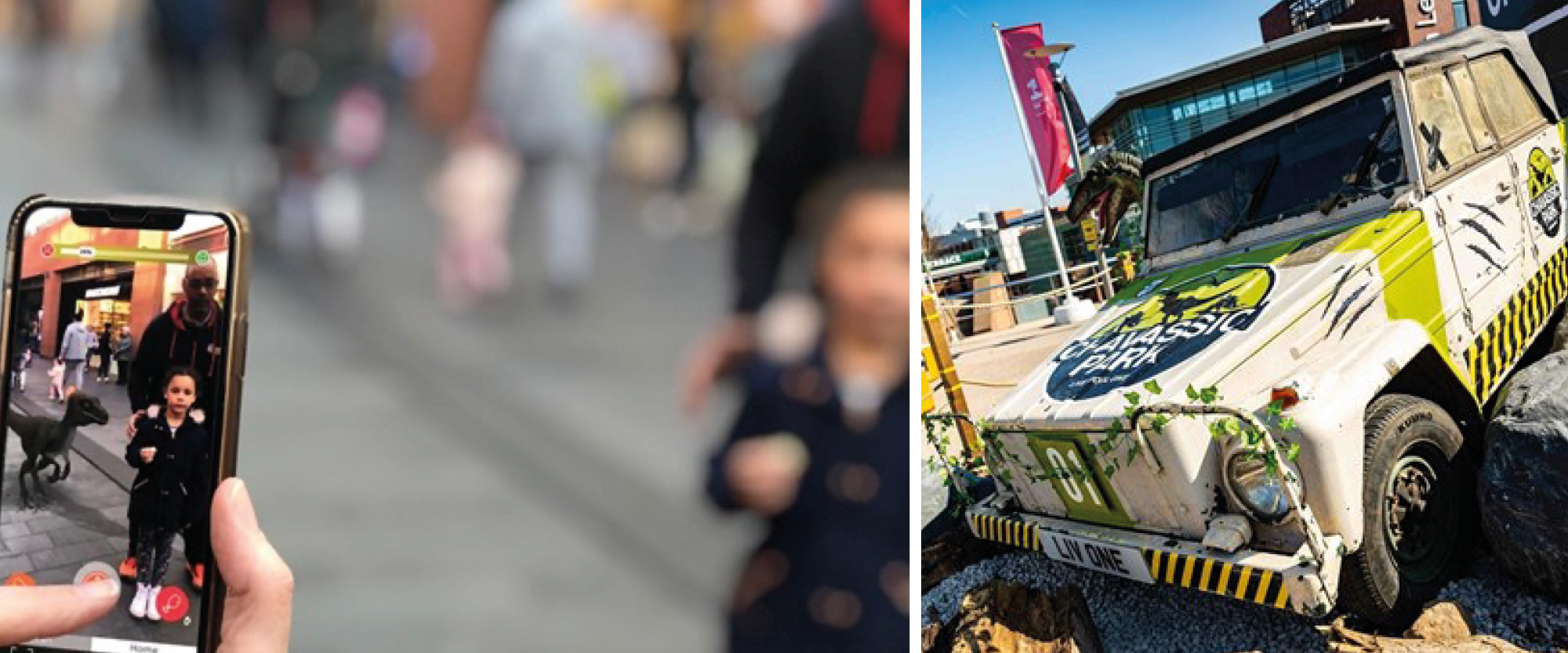 Image credit
Liverpool One
Liverpool ONE launched a 10-week campaign in March of this year that saw a Dinosaur app and the use of augmented reality amplify visitor experience.
Visitors were able to interact and walk side by side with dinosaurs as well as encouraged to 'nurture' the special guests.
Reporting an increase in sales of 4% and a 3.3% rise in footfall, the campaign received substantial pick-up on social media and was a ROARING success. Visitors even travelled an average of 14 miles to 'engage with this virtual world'.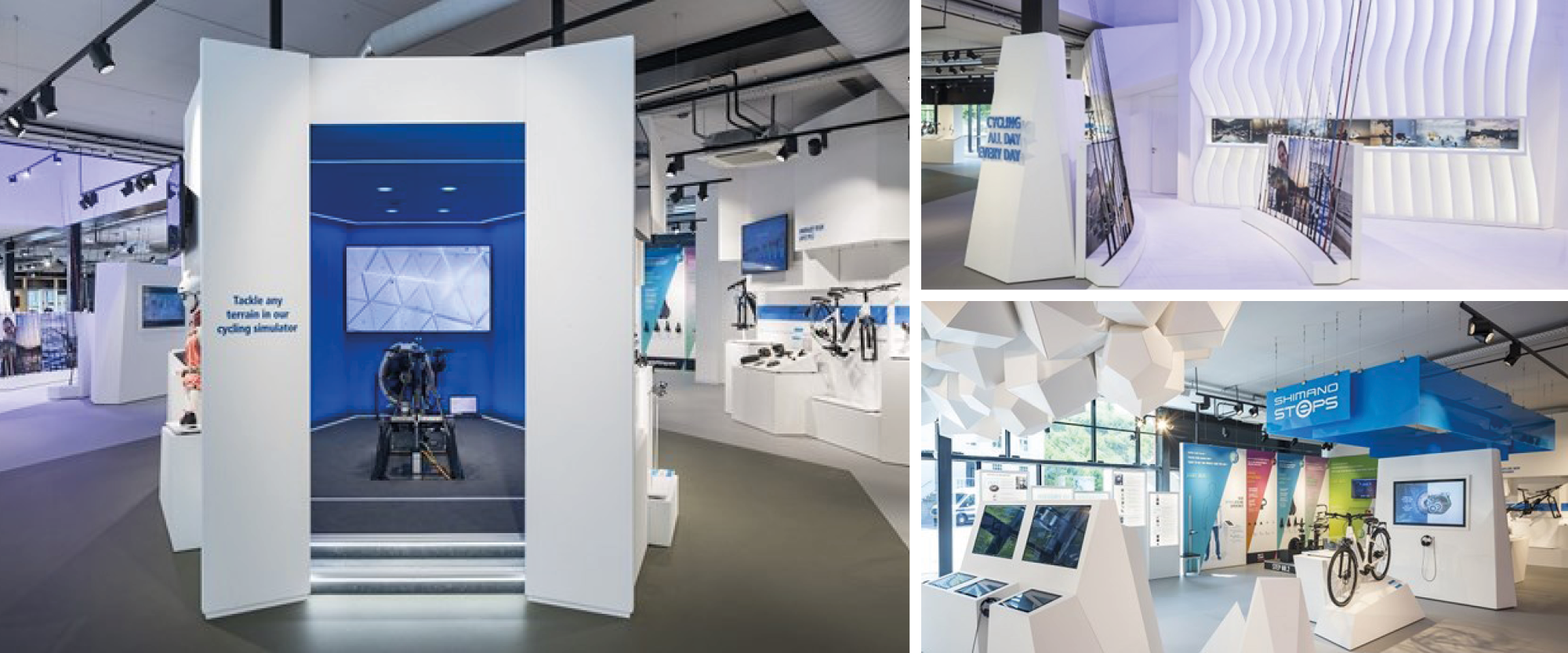 Image credit
Shimano Experience Centre
Known for their bicycle gear systems, Shimano opened the Shimano Experience Centre in the Netherlands to give customers the ability to try their products in-situ without having to leave the centre.
Created for those with fishing, cycling and rowing interests, the centre uses technology to communicate with 2 key audience: the "microadventurist - an outdoor explorer who regularly takes part in sporting activities, and is eager to learn new skills; and the recreational specialist, who may have more defined expertise and enthusiasms."
Featuring digital screens showing live events, interactive screens with map planning and location recording to aid with fishing spot preferences, apps and a virtual reality cycling simulator, Shimano provides something for all senses.
The centre goes even further with their fishing booth, giving customers the chance to catch a virtual fish using their product – again mimicking the real life look and feel of the environment.
Let us just say, these are only a few of the experiences the centre offers visitors.