Similar to conventional printed maps, card-based signage is fast disappearing from conferences and tradeshows, and as the main aim for an event organiser is to ensure guests and attendees have the best time as possible in a hassle-free manner, digital signage is becoming a popular choice.
Although paper-based signage can still do the job, it's hard to ignore the benefits of upgrading to digital with software now available that dynamically pull information from your event management system, allowing for greater flexibility and the ability to reactively update information – transforming the overall experience.
Becoming more than a shiny, electronic alternative to static posters and maps digital signage is changing the corporate events landscape.
The more interactive the better
Revolutionising the way events look and feel, event organisers now have even more options when producing eye-catching content, including but not limited to huge interactive video screens to scrolling advertisements.
According to AVIXA's 2019 Market Opportunity Analysis Report (MOAR): Corporate Events there is overwhelming evidence showing corporate event audiences want interactive ProAV technology – put more simply, interactive experiences.
The report states that in 2019, of the $247bn total ProAV market, live events represent a whopping $26.7bn, showing strong demand for interactive technologies, from displays through to live social media feeds and the option for virtual attendance.
It is suggested that those who have this nailed are seeing dramatic ROI and are opening up new revenue opportunities at meetings.
Sean Wargo, Senior Director of Market Intelligence at AVIXA states that "Corporate events are a large and growing portion of the live events space, thanks to a continuing need for companies to educate, promote and celebrate their brands, products and services. The experience economy has raised the bar for producers of these events, requiring the latest in technology to attract and engage audiences, particularly given the busy nature of trade shows and other large events where time is at a premium."
According to AVIXA's report, 83% of the respondents involved in their survey said interactive touch displays enhanced their experience at an event, with a further 77% saying projection technology played an important role in enhancing their experience. It also has to be noted that the report was made up of respondents who frequently attend events that aren't required for work, thereby having choice and speaking on how providers attract them when there isn't a direct need for them to attend.
Ahead of the future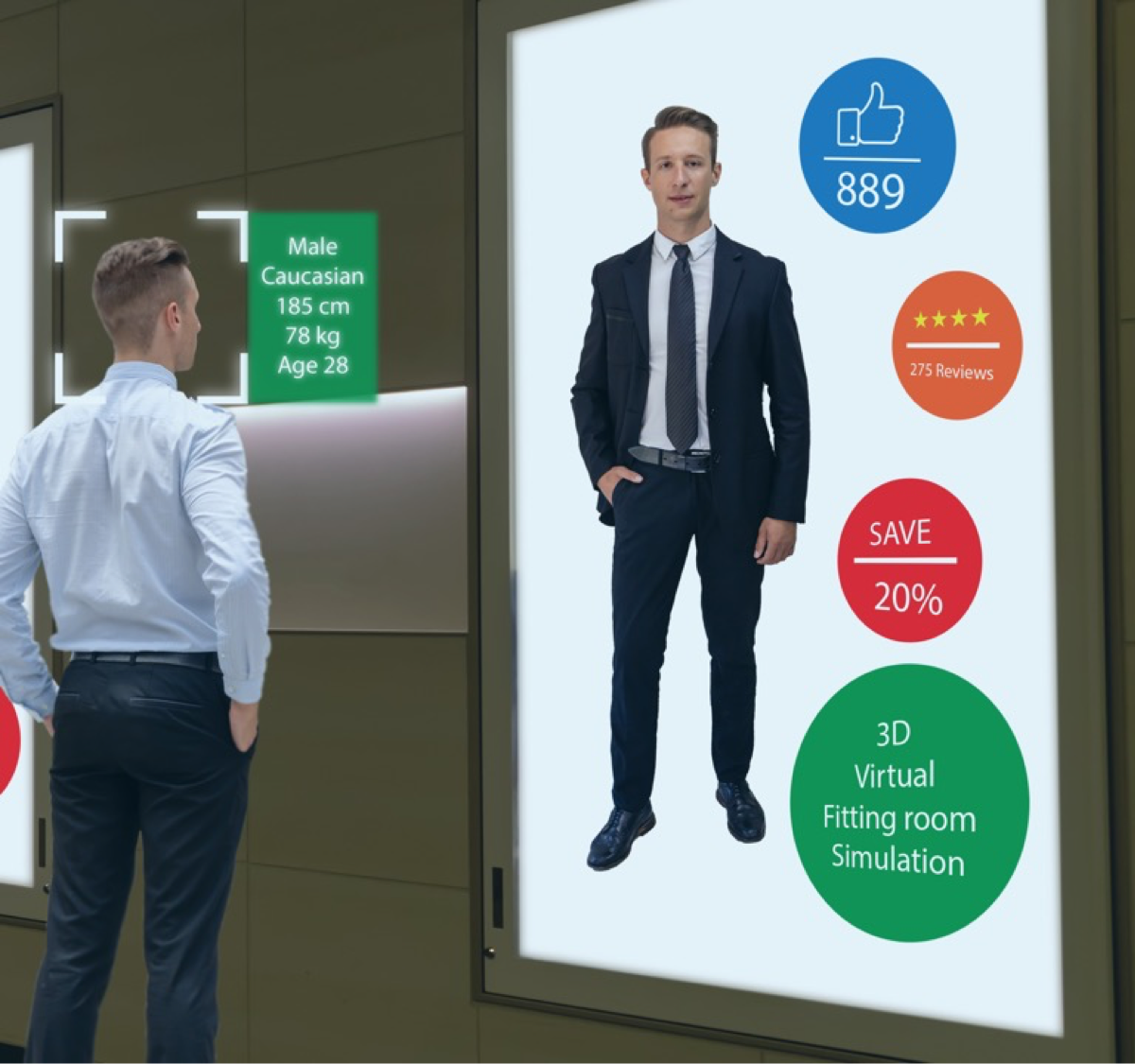 In the 2002 sci-fi thriller Minority Report, there's a famous scene where John Anderton (the main character) walks through a shopping centre in 2054 and as he walks by a screen his retina is scanned, triggering a video ad splayed across multiple walls calling out "John Anderton, you could use a Guinness right about now!"
That was 2002 / 2054, and as we begin another decade what seemed like a wild possibility in 2002 is now seen as a minor and dare I say it kind of average advancement when compared to the type of technology we're now exposed to. It wowed us then, but now we're asking "Okay, so what's next?"
Gone are the days of impressing the audience with standalone flat-screen displays doing nothing except being what they are – flat screens. There probably will never be a better time to think about how virtual reality, artificial intelligence and experiential marketing can take both you and your audience to the next level because let's face it, whether we like it or not that's exactly where we're all heading so why not get a head start?
As Aimee Gabel, MSOD Director of Education and Professional Development at Solar Energy Trade Shows says "Digital signage just makes it look so much more professional. You walk in and you're just wowed. You know that this isn't your father's or your mother's tradeshow. This is something different. This is something in the modern age."
Improving attendee experience, making wayfinding more efficient and providing engaging interactivity the results of digital signage is without a doubt changing the conference and event industry.
Time to adapt?
Timing is important and this is especially true in advertising and marketing – 2 things events lean heavily on. Time is forever changing and so are your audience's taste and desires, which is having a knock-on effect on how they respond to your content. Understanding the changes, what it is they want and how as a company you can meet these needs are key, so we've explored how digital elements can be adopted to optimise your ROI.
Live Stream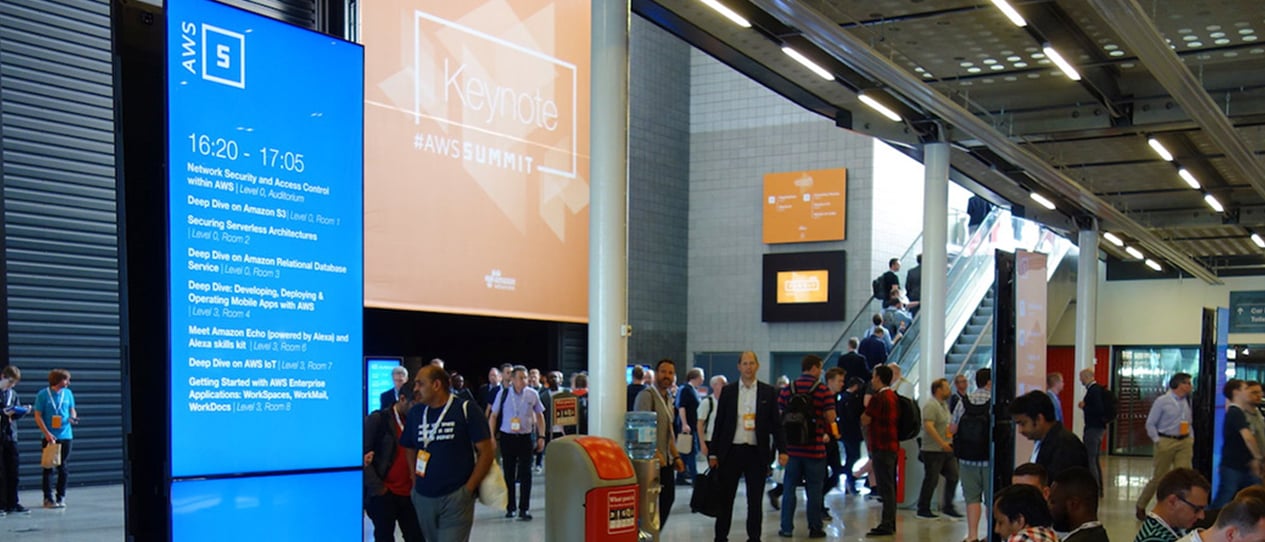 Credit
In a previous blog Helping Customers Find their Way – The Digital Way, we briefly touched on the frustration of finding your way around a complex venue, with many activities taking place and the importance of moving wayfinding solutions along. At exhibitions and tradeshows, these feelings are compounded when working with tight schedules and limited time. For these events, organisers are finding digital signage are perfect for offering delegates a seamless journey and experience.
Taking this idea even further, you can now have live streams of key events being shown on various screens across the venue, allowing guests to be a part of the show without having to physically be there and rushing from 1 end of the site to another. Although perhaps not ideal for individual exhibitioners wanting to have key conversations, live streams are perfect when there's particular interest in a speaker and there are limited seats, or getting the attention of those who wouldn't normally stop by a particular stand. Why miss out on the show because you can't be there or can't find a seat? This is convenience at its finest.
Flexibility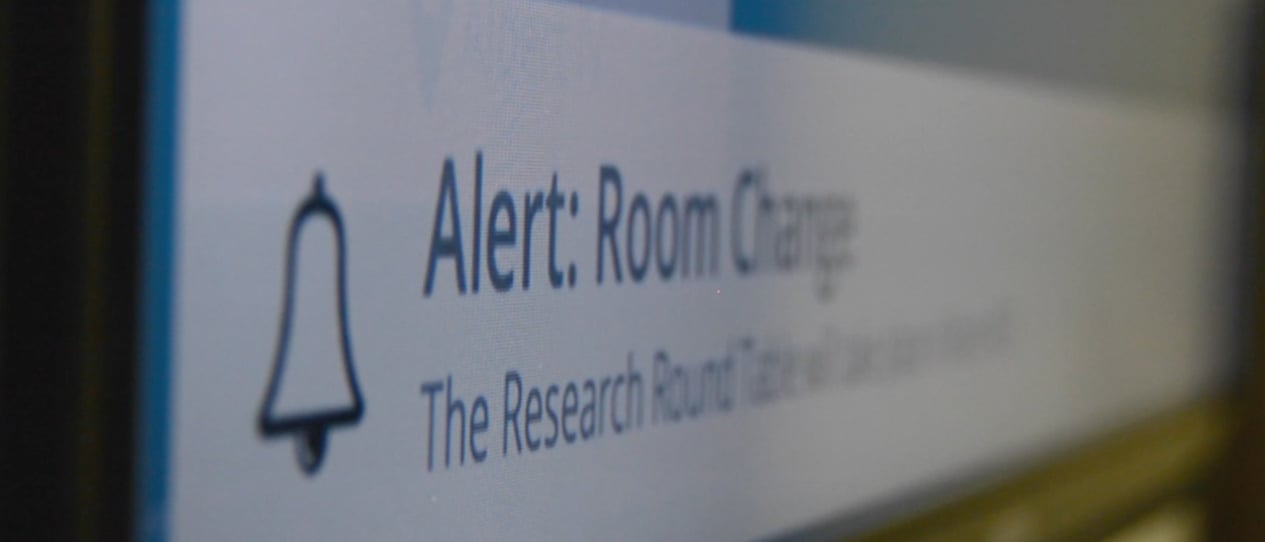 Credit
Updating content and communicating new important information mid-event to guests across a large site is many organisers' nightmare. However, digital screens can eliminate the panic that come hand in hand with last-minute changes allowing for updates at any point and with very little hassle.
Interactive and environmentally friendly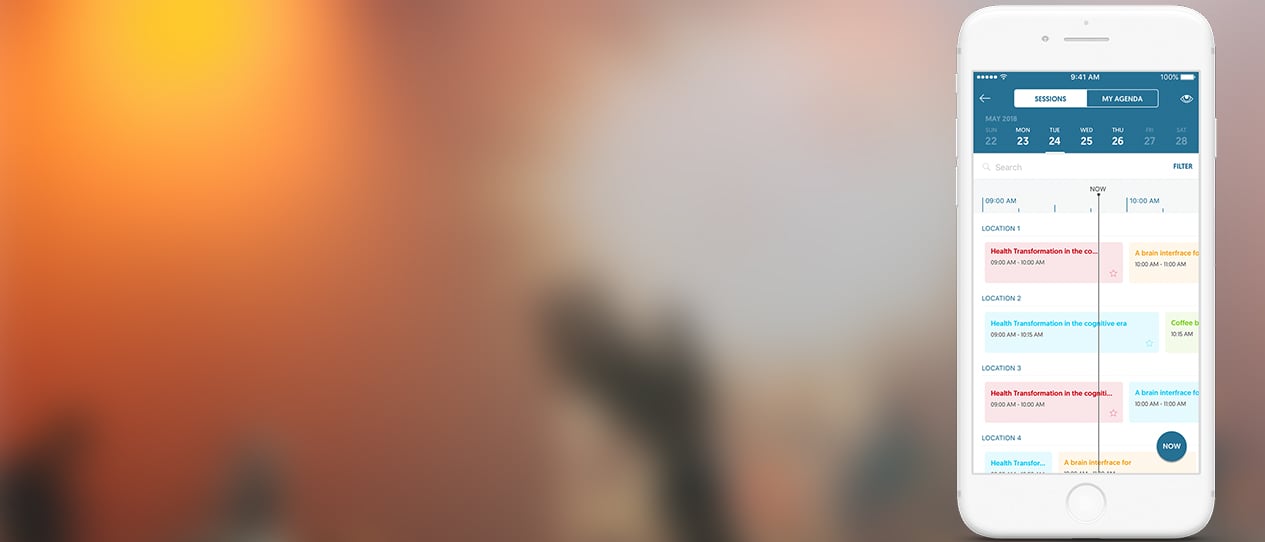 Credit
It's the 21st century and chances are the majority of your visitors will have a smartphone, so why not reduce your printing costs and the amount of paper wasted by creating an app that houses all important event information for visitors? This means packaging everything within the event programme (event maps, schedules, exhibitor details and other important info) in a clear and easily accessible digital format for your visitors to carry around without adding extra baggae. This can then be displayed on touchscreen kiosks in various places around the event for those who do not have a smartphone or internet connection (if not logged into event Wi-Fi).
Branding opportunities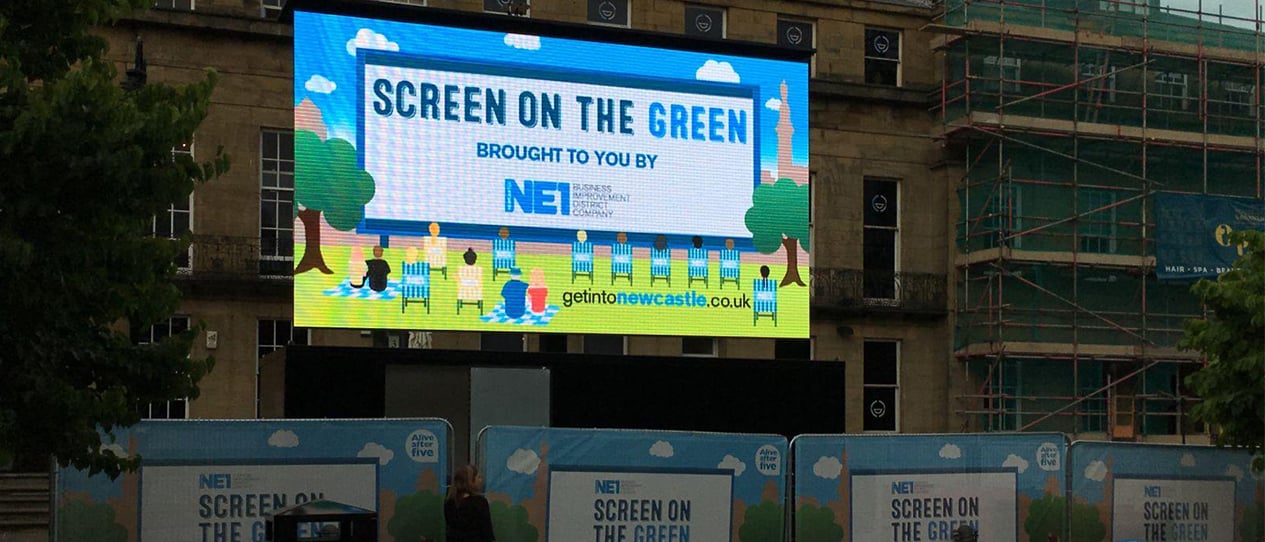 Credit
Replacing static branding with video content has shown to reduce waiting time perception by 40%. If you are asking delegates to wait in between workshops, then logos and company branding being displayed digitally can increase conversion by up to 10 times in addition to maximising advertising space, making space for multiple advertisers.
Creatively using social media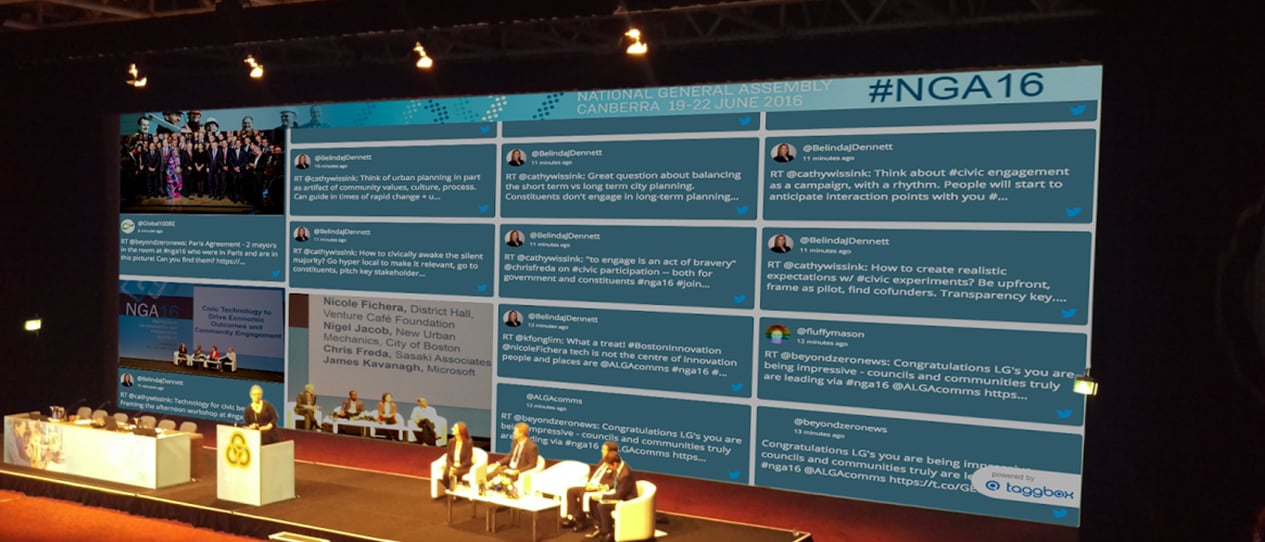 Credit
Not many people are aware that by using event wi-fi to setup event Facebook, Twitter and Instagram feeds, they can tap into a market they wouldn't normally have access to and not to mention increase engagement.
By encouraging delegates to comment on specific events and using digital screens to display scrolling video feeds of each comment as they come in, you are not only creating a 'buzz' but ensuring greater exposure of your content.
Let's talk
With over 50 years industry experience and a knack for understanding our clients' needs, we're sure we can offer help and advice as to your what digital solutions would be most suitable for you, so get in touch today.