As soon as the first lockdown hit in 2020 and it became apparent for our clients that big changes would need to be in place for their premises to carry on working safely, Service Graphics wanted to help. We began developing products that would not only withstand continuous public traffic, but also be fully brandable and match our clients' varied aesthetics.

The result? An extensive range of "Covid-Secure" products encompassing everything from splash screens to floor signage, desk dividers, queue signage, temporary offices, sanitiser banks and much more.
So when holiday expert Kuoni approached us to see how we could assist in developing their post Covid-19 re-opening campaign across their UK high street stores, we knew we'd be up to the job. With luxury and bespoke firmly at the core of Kuoni's offering, we also knew whatever we provided would have to have the same sophisticated look to fully match up.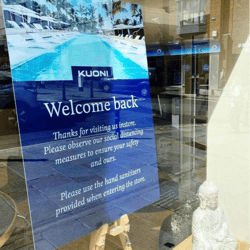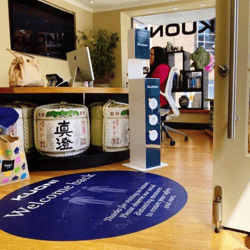 Matching their brand
Initial conversations made clear that we wanted to welcome the customers back into stores in a safe way, but into an environment that puts them at ease. We are planning holidays after all.

SG developed some initial concepts and copy for the new in store measures. The aim was to reassure customers that precautions had been taken, not to put them on high alert in this new era of pandemic.
Social Distancing Measures
Wishing to steer clear of the "hazard-tape" signage we've all gotten used to seeing recently, we kept directional signage to Kuoni's core brand colours - a palette of calming blues. Informational signage and conversational copy, to seamlessly blend with their in-store feature displays.

Hand Sanitiser Stations
Kuoni chose automated floor standing sanitiser stations for their entry points, for which we provided a graphic wrap to perfectly match their store aesthetic, adding user instructions into the design. Our sanitiser products are manufactured using varied robust materials that will endure continual use, delivering consistent measured shots of sanitiser designed to combat 99.99% of bacteria and viruses, including Covid-19.

An End-to-End Solution
Focusing on an initial test site in Guildford, our service utilised our extensive retail knowledge to first survey the client brief, consult on creative placement and subsequently deliver products.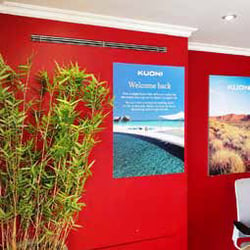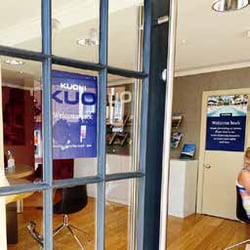 Safe for customers
The Guildford store successfully reopened last summer and plans to roll out the package across the rest of the store portfolio have since progressed, with Service Graphics as Kuoni's dedicated "Covid-Secure" partner. They said of the project...
"We worked with the team at Service Graphics to design, produce and install the Covid-19 signage across our nationwide network of stores. The service was fantastic and nothing was too much trouble, communications were clear and professional and most of all the install looks incredible. Many thanks to Tom and the team for a job well done"

As the roadmap dates for re-opening more and more business premises looms closer, don't hesitate to get in touch with our team and see how we could assist. Contact us today at enquiries@servicegraphics.co.uk.