We're pleased to announce MAGNWALL, for whom Service Graphics are the dedicated UK distributor for, has won not one but TWO major awards in Europe's retail space.
Without any screws, grids or cables, shelving systems, lights, visual merchandise and digital signage can be positioned and powered on any MAGNWALL surface. This innovative technology is new to the market and enables flexible, creative and agile product presentation that can be adapted at any time without the need for trained personnel.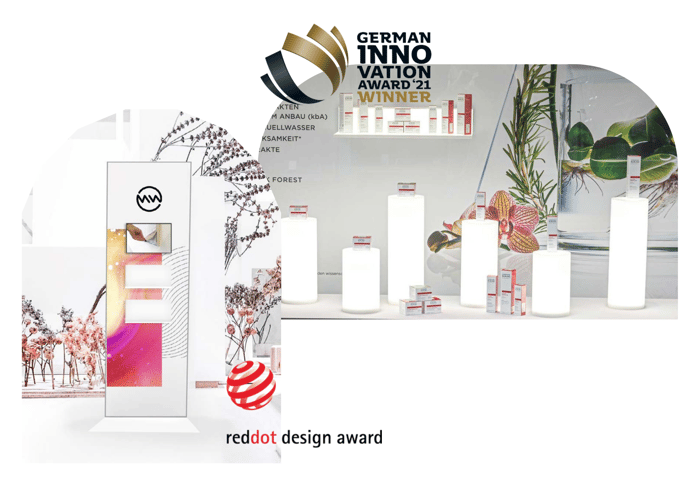 German Innovation Awards 2021: Winner of Best Retail and Trade Solution category
MAGNWALL's partnership with UNIQUE by Basler Beauty accomplished "excellence in B2B" for its installation using the example of a shop window placement. The display enables UNIQUE to adapt their brand and product worlds quickly, flexibly and sustainably at any time, while linking digital touchpoints with a screen.
The illuminated cylinders, shelf and screen can be controlled by an app; taking control of the lighting design in terms of colour and usage. Due to the positive response in the brand world, this particular shop window presentation is frequently adapted to brands and rented out on a monthly basis. By being able to switch out the banner, and the flexible positioning of the accessories, the shop window can be changed completely with a few quick and easy adjustments.
Red Dot Design Awards: Winner of the Red Dot Award for Best Product Design 2021
Not only is MAGNWALL a great solution to wall displays, its freestanding display option has now been recognised. The freestanding display allows a flexible placement in-store or in the shop window and can be combined with various accessories and screens on both sides. The placement can be adapted to any change thanks to the magnetic, illuminated function and its rollers. A the same time, the desired presentation is shown at the highest level of design.
Take a look at our website to find out more about MAGNWALL and its flexible display capabilities. Got a question? Speak to our helpful team who will be happy to assist with bringing your ideas to life.